Hobo 4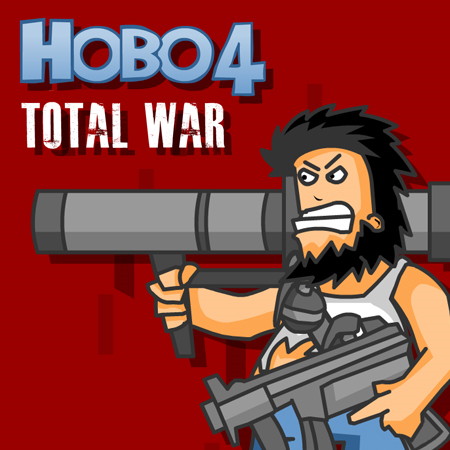 Hobo 4 is the fourth part the game about an insane homeless guy. Firstly, his manners are so bad that they could harm the health of another person. And secondly, our hero's biography is full of weird facts.
Hobo 4 Total War time of resistance
While in jail Hobo provoked a riot. After the escape, he was chased by the cops. All this events tempered our hero, but now he is in real trouble, so he needs your help. Hobo 4 Total War takes place in real war zone.
Army is equipped on completely different level, often instead of cars they will attack you with helicopters. Rocket launchers, assault rifles, shotguns and a pistols are in arsenal of the enemy. Well, our Hobo does not mind to use this weapon in his own hands. Our hero seems to know no mercy, especially when he has weapon in his hands. He will not hesitate for a second. Also the main character improved his skills and began to use more sophisticated and devastating combos. And yes, it does still look very ugly, but the value of those combos can not be underestimated. You will be able to explore new combos in Hobo 4 total war, to more effectively destroy the enemies.
Hobo 4 game controls
Controls of Hobo 4 game are carried out on the keyboard only. To move use arrow keys. Press A and S for attacks, or to pick up something useful. Button D in addition to A and S, is used for combo attacks. Press P for pause and to check available combos.
Hobo game 4 is a very specific and original game for adults and older teens. Fourth part of this fighting game will not disappoint its fans. As always you will need to go through a lot of troubles with the toughest Hobo on earth. The graphics and animation, as before are very colorful and lively. You have a really good time playing Hobo 4 game.