Woobies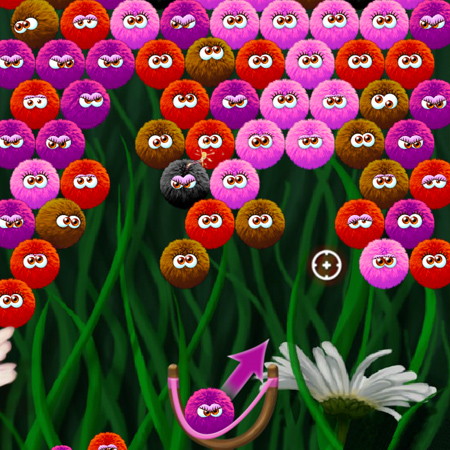 Cool fluffy balls are looking forward to have some fun, help them and enjoy the game in between. Recommended for children of preschool age. This game will help them to solve everyday tasks and problems.
Woobies game is endless fun
The game is very easy to play and yet a lot of fun. Levels look like a field with many colorful balls at the top of the screen. They gradually move down. You need to destroy them all. To do this you need to shot other balls from a sling. Group the balls so that at least 3 of the same color were next to one another. In other cases, they will simply stick to each other, creating bigger layers. Woobies game will keep you or your child really involved in gaming process. Hilarious gameplay simply can not be boring. Bomb will become handy. They have a very small radius of explosion, but after playing a bit, you'll notice that they really help a lot. Use bombs in places where you can earn most points. Bonuses help you with your passage. For example when it reaches every 100,000 you will receive one extra life. For each 15,000 you will get a bomb. Woobies games have 3 difficulty modes. So you can choose what is best for you. In easy mode everything is very simple so it is basically for kids, when hard mode is for adults and every shot is crucial.
This game is full of surprises
When children play Woobies parents can have some rest, but at the same time kids have to think which is good because it is an educational game. And all this without any registration or fees.
Woobies online is a good game that combines only the best quality that will delight your child. Time spent on brain is never spent in vain. This game is a great alternative to many activities. Good luck to you!