Dream Pet Link 2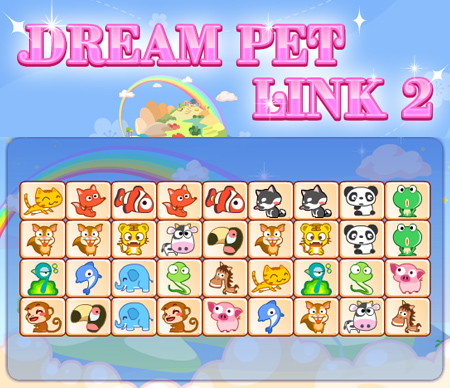 Finally, the fans of old good mahjong or so called tile match games can play the second part of extremely popular online game. What is great about it is that it is absolutely simple in its essence, but so addicting, just try it for yourself.
Dream Pet Link 2 the real fans of mahjong
The essence of the game is to find and connect two tiles, the tiles on which animals are depicted, but it only happens under the condition that there are no visible barriers to the line. In each level, the difficulty will increase and the squares will become larger and the variations of the images will become more intense. Funny little animals in the pictures will excite children. But this should not distract anyone because the Dream Pet Link 2 game is also limited in time. There is a big timer displayed in the top of the screen that counts back the time. If you are completely at a deadlock and do not see any options for solving the problem, then you have hints, by the way the number of them is limited as well. Hints are also at the top of the screen and are indicated by an icon with a magnifying glass. For the passage of each level you are awarded stars, but these stars are not ordinary ones, they will be useful to you when you want to buy a new animal for your zoo collection. There is a lot of space for new pets so you will need a lot of stars. Coo little catch is that you can not really see what kind of animals are available in the collection. So that is why first you need to earn some stars and then later you can finally unveil the new addition to your vast collection. We really hope that you will like to play Dream Pet Link 2, enjoy this cool brain game.
Awesome brain game for kids and adults
Did you know that some of the games are not just bright and entertaining but also very useful. Yes you see what I am trying to say here, this is exactly the game, if you play it you can actually benefit from the process. But anyways if you are too old for games or simply it is not your thing but you have kids, they should really try Dream Pet Link 2 online for some unforgettable and useful experience. Enjoy this amazing puzzle game together with your children.