Scooby Doo 4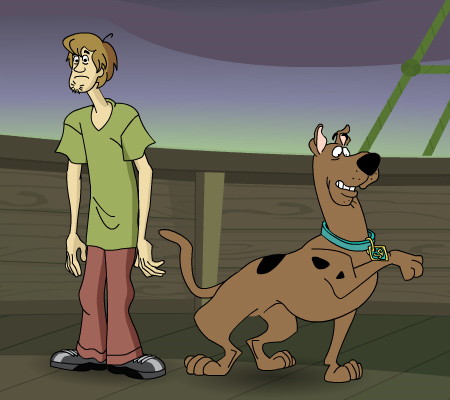 The next part of all the famous game based on the cartoon Scooby Doo. Scooby Doo 4 is a fun and interesting online logic game based on the popular cartoon. Your task is to collect all sorts of things on the pirate ship that will help you to pass the levels. Carefully inspect the game level, use objects properly. Be a bit of a detective and help the main characters to overcome all obstacles.
Scooby doo pirate ship is here to bring you joy
The original name of this franchise is "Scooby-Doo, Where are you!" you probably know this part anyway, it was created by writers - Ken Spears and John Ruby. In the story, we have four main characters teenagers - Fred Jones, Daphne Blake, Velma Dinkley, Norville "Shaggy" Rogers and a talking dog called Scooby-Doo, they all solve riddles involving supernatural creatures, as they think, which usually turns out to be untrue.
In this part you will again have to solve various riddles and puzzles to get out of the mess. You will find yourself on the ship with Shaggy and Scooby Doo. From the first seconds of the game, Scooby is already trembling with fear after a series of rushing rats, but his cowardice has repeatedly saved the team. In this part of the Scooby Doo 4 game you will control the characters. For the most part of the game you will need only keyboard, and not as before where the controls were based solely on the mouse and first person view.
Scooby doo episode 4 is one fun game
Colorful effects while interacting with the world bring novelty to this part. The logical component of the game is also on point, a lot of different tasks have to be done along the path, a series of puzzles will test you for assiduity, concentration, mindfulness and of course for cunning. The game contains tips that you can use. Colorful graphics will also cause you to be utmostly impressed by what is happening on the screen. Children should really dig this game, but it may seem a little complicated, because not even every adult can deal with such tasks, but we all know that children are even smarter and will always come up with what to do those kinds of situations. Enjoy Pirate Ship of Fools Ep4 game.