Match 3 Christmas Pack
Three in a row Chistmas is the game from the genre that have always been popular and there is nothing surprising here. For some people, this activity is a great holiday, for others it's a way to spend a lot of free time. Some players in such a simple way train their logical thinking.
Match 3 Christmas is a real deal
In front of you there is a familiar task, there should be no problems solving it. Swap places of objects on the game screen. Collect three identical symbols in a row and the line will instantly disappear. The tiles on which the objects were collected will be covered with hoarfrost. Repeat this procedure in one place twice, these cells are ice-cold now. To complete the level, you need to freeze all the cells. But not everything is that simple, the playing field has a bizarre shape, removing the symbols from the corner cells is sometimes very difficult.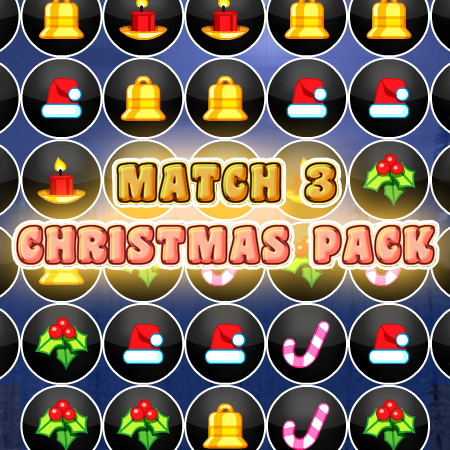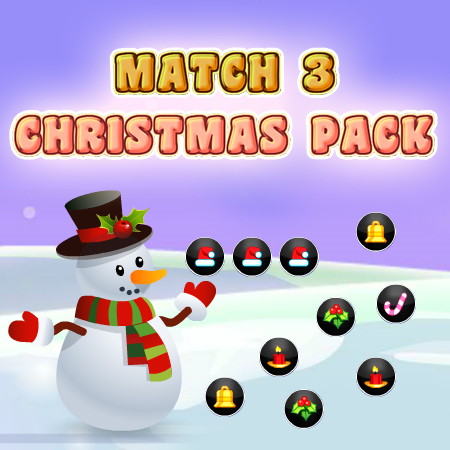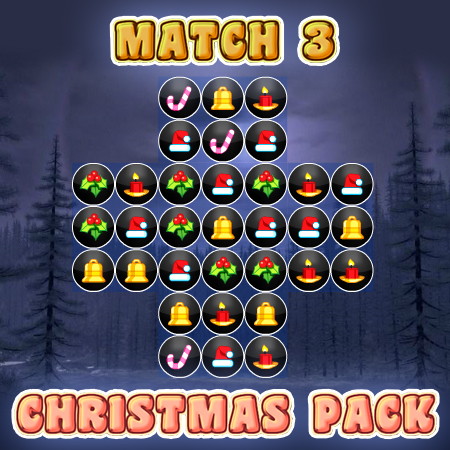 Game match 3 New Year will give you an unforgettable time, collect bells, candles, wreaths and sweets. Such a number of different elements makes the game quite difficult, with each new level their number will increase. Be patient and do not be distracted for an instant, the loss of time is extremely undesirable. The form of the playing field will also change at all levels, this will create many unpleasant situations for you. If you managed to deal with several levels, you can be happy with yourself.
All the difference in the playing fields makes this game both more fun and harder to play. To make things not to seem so terrible and complicated, there are various bonuses in the game. You need to learn how to use them at the right time. Only with the help of Explosive Santa and Holy kick can you get a good result. Do not waste the opportunity given to you, save the bonuses to the most appropriate moment. Explosive Santa is a symbol depicting a gray-haired grandfather. Click on it and the objects on the surrounding cells will disappear. A holy kick is an ability that removes all cells horizontally and vertically, relative to their position. Do not rush to click on the bonus as soon as it appears on the screen. It is necessary to clean tails in the usual way. In this case, all items will move and perhaps the bonus will take a more advantageous position for you.
Keep up with Christmas spirit
Very soon we will hear the sound of the chiming clock and will see the ball drop, but now you can make your own adjustments to your mood. This game will help you to overcome the sadness of weekdays. Winter and Christmas atmosphere always reigns in this game. Even in the hot summer you can find the right coolness and remember the magical time of bright holidays.