Battle ships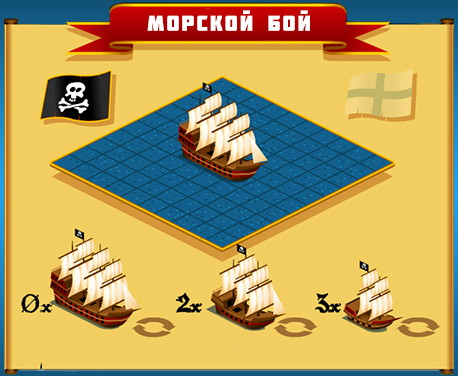 Logical game Battle ships is something we all know from childhood. Whether on a break at school or just at your leisure you used to play it with your friends. All you needed for this game was a sheet of paper, to draw fields or coordinates. One field is yours the second field was for your opponent. In online game everything is much easier.
Battleship game - nostalgic memories
You will play against the computer. Your goal is to sink all ships that set up on the opponent's field. Each opponent takes turns to attack. You can attack 3 sectors per turn. Whoever sinks all the ships of the opponent wins the Battleship game.
In the main menu, select training mode in order to start Battleships game. Unfortunately, the multiplayer game is not working. The fleet consists of 1 four-decker ship, 2 three-deckers, 3 double-deckers and 4 single-decker ships. The entire game map is divided into sectors. Place all the ships in any order on the map. They can be rotated 180 degrees, but you can not put them one next to another. There will be many variants of arrangement. After all Battle ships are place the battle begins. You will be playing as pirates and will attack merchant ships of the enemy.
Show your toughest Battle ship
In game Battle ship each player is given 10 seconds per turn. During this time you need to select 3 sectors on the enemy's field try to guess where his ships are. If you run out of time and will not select all 3 sectors for attack there will be as many shot as you selected sectors. So do not waste your time, because you can lose a precious shot that will give you advantage over the enemy. In any of the sectors there can be a ship or a part of it. Sooner or later you will hit the target. If you are able to sink the ship, immediately think about where might be other parts of it. Once the enemy ship is sunk consider the fact that there can be no ship next to the one you just hit. Required distance between them is at least one sector. This will help when you aim at the next target. So think before shot. Be smarter than the opponent. Battle ships is the kind of game that everyone will like. Feel the nostalgia and at the same time don't bother to use paper to draw battlefield. But now Battleships game is available online to everyone for free. This game is a legend and is a lot of fun.