Sushi Chef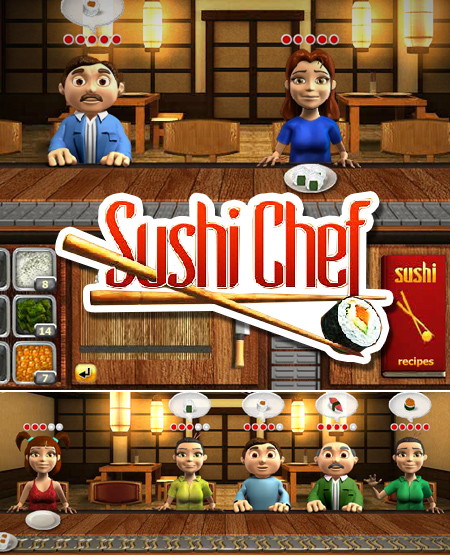 Youda Sushi Chef for those who love Japanese cuisine
At the beginning of the youda sushi chef restaurant will be offered to choose a character, a girl or a boy and give him or her a name. This how you will open your first restaurant, the name of which you choose as well. Since you have put into this place all your savings, then you have to try not to lose everything. You have only one week to succeed, expenses have to become lesser than your income. Otherwise you can forget about the dream to become the owner of a chain of restaurants and to be glorified as the master of cooking delicious sushi.
As you already understood, you will need to not only manage your bar, but also cook your own sushi. You will need to brush up some recipes for the most popular sushi. As soon as the first visitor orders a meal open the cookbook and see what ingredients are needed for a particular type of sushi. Remember that as long as you are looking for the right recipe and learning it, your customers are still waiting, so do not delay much. Real Sushi Chef does not hesitate.
How to play Sushi Chef game
Initially, you can cook three types of sushi: Onigiri Maki, Ikura Maki and Gunkan Maki. Onigiri recipe is simple all you need is fresh rice and seaweed in proportion 2 to 1. Onigiri is shaped in circles or triangular and sometimes has stuffing inside. Ikura sushi is made with red caviar and rice in 1 to 1 proportion. To make Gunkan maki you need rice, nori and 2 servings of caviar. After the ingredients have been chosen you need roll sushi into rolls. If you choose the wrong products, click on the button under the bamboo mat. It will also add new ingredients and recipes.
If you run out of products or sake call your vendor and order more. It is better to have a little extra stuff in stock. Do not let the customers wait too long or they will get disappointed and leave. Keep your sushi bar clean and do not forget to remove the dish after the customer finished meal and at all times clean the tables.
Every day you will have certain goals (mainly to earn certain amount of money). Those goals will bring you to the next level and will start a new day.
Serving clients on time in this game gives you reputation points, the higher the points the more visitors you'll get.
Improvements your Sushi game
Sushi cooking games gives you an opportunity to purchase improvements for your restaurant. Each object has its purpose, better mats will allow to cook faster, better pipeline will increase the speed of food delivery to the customers, the supply of sake in better bottles will give you more time to cook. The trick with a knife will cheer up visitors.
Also there is a new phone - faster delivery, automatic dishwasher and debris cleaner. You can improve the mood of customers with the help of decorations like plants, aquarium or new furniture. Youda sushi chef game has a lot to offer.
You will be able to get a few restaurants in the neighborhood when you buy the full version of the game. Unfortunately free version is limited to only one institution. Your success depends on your ability to do business and quickly cook. If you know all the tricks, then this game is not a difficult and you will definitely like it.