Sara's Cooking Class: Cake Pops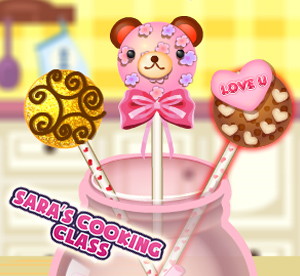 Be a pro with Sara Cooking
In order to begin cooking cookies on a stick in the game you will need to gather all the necessary items and products in the basket. The faster you do it and the lesswrong in choices you make, the more stars you will earn. For the best results, you need to follow as accurately and quickly as possible the instructions of chef Sara. It is important to pay attention to how you crack the egg and how you slice the butter.
The first step in sara's cooking game is to cut the butter, put it in a bowl and blend it with 2 eggs. Then add sugar and whisk to mix everything. Next pour the flour into a bowl and add butter and milk from step one and turn everything into a dough. Now it is time to bake. Pour dough in the cell shapes for baking and close it. Then you put cookies on sticks.
Sara cooking cake
When cookies are ready, dip them into the glaze and then you can proceed to decoration of them. Decorating cookies is probably the most interesting part of the game. You can choose from ton of different toppings. They all are colorful and pretty. Try to make the most extravagant design ever.
At the end you can save yourself a photo with the dessert you cooked. Do not forget to watch Sara's Cooking Class Cake Pops walkthrough. Good luck playing!