Mohican Girl Make Up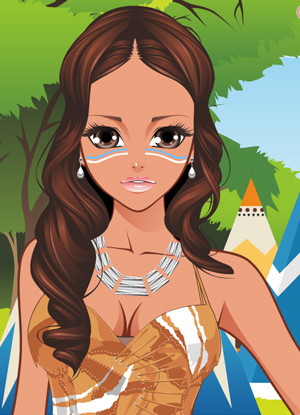 Native American Makeup was very original and therefore it is still presented in the elements of the current trends. Your goal to play with it and create really unbelievable looks.
Indian makeup game
Girls love to dress up native americans, especially on the eve of ritual ceremony (marriage). Our heroine needs to outshine everybody else and become wife of the most handsome and strongest man of the tribe. Pick her a nice outfit and do not forget tribal Indian makeup and accessories.
Traditionally, Indians used braids in their hairstyles. Therefore, you can find braids in the choice of hairstyles in mohican game. You can also choose the color of the skin. Then choose from different variations of makeup and eye lenses.
When makeup is ready, you can move on to the clothing. All Indian outfits look very stylish and there are plenty to choices. Accessories such as earrings, necklaces, chains, armbands look very cool and made to match the native american style. Feathers are used in the costumes and ornaments.
This one unique Indian wedding makeup games
Create a unique image, and thereby help your mohican to look magnificently. In this game, it all depends on you. At the end of the game you can save the photos and compare before and after.
Do not be afraid to experiment and eventually you will create a real masterpiece. Makeup in the style will appeal to all Indians. This is one of the most popular among Indian wedding makeup games.