Fiery Beauty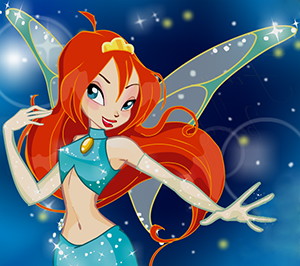 Beautiful fairy Bloom is ready for your most passionate and extreme looks for her. Don't restrict yourself to anything, show your individual style and sense of fashion.
Short story of Winx dress up
Story of Bloom seems simple. She lives on Earth in the city of Gardena, which is located in North America. She goes to school, dreams, loves fairies and has a lot of friends. But one day, by chance, comes to the protection of sun and moon fairy Stella, which was attacked by monsters. Here she opened her magic skill, of which she didn't have any idea. Fairy Bloom together with Stella goes into a magical dimension of Magix, where she meets with another fairies Flora, Musa, Tecna, Layla and guys Skye, Brandon, Riven and Timmy. They arrange magical community.
So the magical adventure in Winx dress up begins. In this magical land Bloom learns magic in a special school of magic called Alfea. Take part in the battles with witches the eternal enemies of fairies and with other evil spirits. Magic rings, stones and natural magic power helps them to protect the world and attack the enemies. It is their obligation to protect foster parents, birth parents and king and queen of the planet Domino. All the pixies created a strong team in Winx Club and oppose evil forces. Fairies love music, trendy clothes and accessories like handbags, jewelry, beautiful shoes. All fairy girls constantly fall in love, make friends and of course always come to help of another if necessary, they always believe in the victory of good.
Winx club dress up is fun
Bloom dress up gives you the opportunity to try on a lot of dresses. This is a variety of skirts, blouses, dresses, tops, various shoes, bags, and even fairy wings. Another interesting solution is to change the interior. Next to a fairy appears and disappears her pet rabbit Kiko. Your favorite fairy can change hairstyles. Hair can be decorated with a variety of accessories. Make-up can be changed very quickly and every time will look. If you click directly on the object on the screen, then it will disappear. Your results can be saved or printed. Winx club dress up is a fun game, where you can make fairy more beautiful and elegant.