Baby Boo cooking tortilla pizza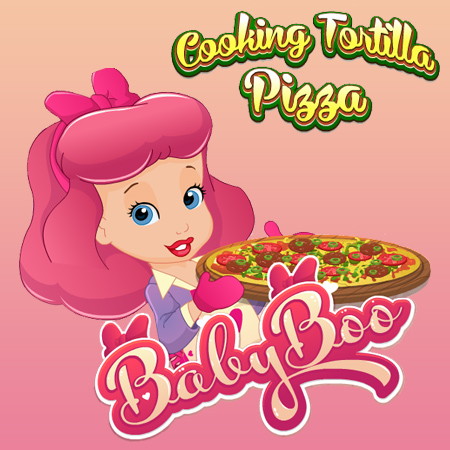 Baby cooking games area easy to play
Pizza is favorite food of many people. Indeed, it is hard to imagine someone who does not like it. So why not to cook it online learn a new recipe that is applicable in real life? A variety of flavors and ingredients in pizzas are sometimes surprising. In this case, its recipe is also very unusual and original, because it is based on recipe of Mexican tortilla. This means that you do not need to make dough in baby cooking games.
In the beginning you will get acquainted with Baby Boo. It's a girl with pink hair, very friendly and kind, she loves her mother and friends. Her favorite hobby is to cook all sorts of goodies and to delight the others with them. If you want to learn from her, then you should play this cooking pizza game. Because in spite of her young age, she spends a lot of time at home in the kitchen.
You will love cooking pizza
The history of the Cooking pizza games for girls begins with a phone conversation of Babe Boo and her friend Cindy, who just returned from vacation and already misses the Boo's food. Baby boo immediately suggests to cook pizza because she is pressed on time.
The process of cooking begins from the kitchen, where little girl Boo will tell you what to do. First you need to take a wooden plank put scones on it and spread marinara sauce, which is in the refrigerator. Then add a little pesto. Then you need to cover your pizza with layer of cheese by shredding it on the grater. Next comes hot pepper rings and tomatoes. Pepperoni is one of the main ingredients of this recipe, spread the fragrant slices of it on your pizza. For the special taste you will need green olives. And in the end it is necessary to add salt, pepper and seasoning with oregano. Now you can put pizza in the pan and put it in the oven to bake for 10 minutes. Baby Boo games is a real joy to play for a girl, but they are also very useful. So go ahead and start cooking tortilla.