Planes Puzzle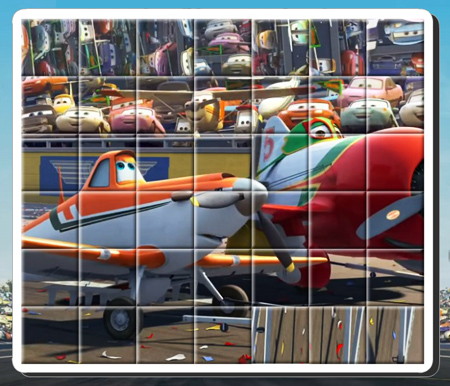 Planes puzzle - kids love it
The task of any puzzle is to put together a picture from small pieces. Usually you need to find the right spot for the right piece of puzzle. But this puzzle is for children so all the pieces are in their places, you only need to rotate them in the right position. Puzzles of 54 elements or less are made for children. This puzzle consists of 42 items, which is a pretty simple task. So for a child of preschool age, this puzzle will be just right. After mosaic is put together, your child will be able to see familiar characters from Planes cartoon.
Cool online puzzle game for kids
The heart of any puzzle game is intellectual activity. Thus, the game develops logical thinking and everything is built in the form of a fascinating game for children. Psychologists believe that putting together puzzles promotes imaginative and logical thinking. It improves attention and perception, namely the distinction between objects of different attributes, such as color, size, shape. It promotes correct perception between the whole and the individual parts. So Planes puzzle game is really good educational online game.
All those factors make Planes Puzzle not only fun game but also very useful. This game is specially designed for children, it is very simple and easy to play. Any small kids will easy understand how to play this game and will be occupied for quite some time.