Monkey go Happy 3
Three poor monkey are rather sad. It is your responsibility to make them happy by accomplishing all kinds of interesting tasks. For real your need to help these poor guys.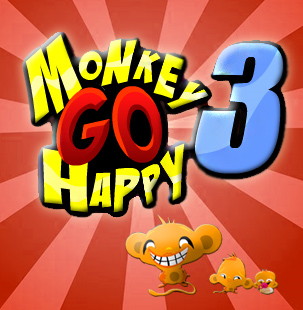 Go Happy monkey 3 develops logical thinking
In the first part of Happy monkey 3, for example, you need to find a stick hidden in the bushes. Then knock with this stick a palm tree and feed poor, hungry monkeys with bananas. Monkeys understood that they have a wonderful assistant and thus they use you, do not do anything themselves, they just cry and call you for help, but what can you do, they're so cute.
Monkey Go Happy 3 has 15 quests or levels. Some of them may seem very complicated, but I can assure you that after few minutes you will be able to pass them without any problems. Do not rush to help your child, because Monkey go Happy game is made to develop logical thinking. The game is suitable for adults if you are bored then this is what you need. Be careful and inspect each level thoroughly. Under any bush or a stone there might be just what you need.
This game can really surprise you
Monkey go Happy 3 game has 15 plot twists so you won't be playing the same game. You have to feed the monkeys, let them out of the trap or even cut them some firewood. You are provided with a half an hour of fun and Intelligent activity. Each time you finish some task the monkeys become happier in appreciation of what you did. So go ahead and make this world a happier place.