Magic Hat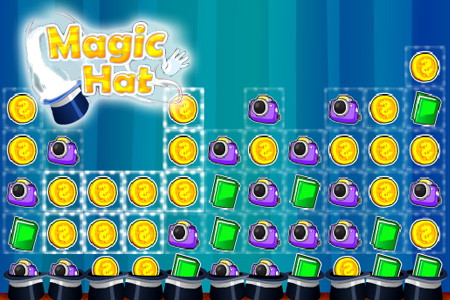 Old good memories of tetris still with us just in a little different shape. Now you have a chance to remember those days when there was no mobile phones and computers. Feel the nostalgia.
Magic Hat game is a new version of Tetris
So the main task ofmagic hat online is to combine objects for destruction. And to be precise, you will need to constantly destroy the same elements, in the form of icons. Wall of objects gradually fill level of the game, appearing at the bottom of the screen and moving up. You need to prevent those icons objects touching the top of the screen. Otherwise you will have to start over. All icons are arranged in a chaotic manner. You need to find 3 or more identical icons which are located next to one another on the vertical, diagonal or horizontal line. You need to quickly find them and destroy them. But we recommend you to think all your steps ahead. This will help to leave more free space, and will provide additional time to think. With each new level new icons will be added to the list. So you will need more concentration and you will have to take faster decision. Magic Hat game is no ordinary for children as it may seem. You should always carefully follow the game and make your decisions as quickly as possible.
To make the task a little easier, there is a special bomb icons of different kinds. For example, one of them makes an explosion around it. Others blast vertically or horizontally. There is also a bomb that explodes the icons located diagonally across from it. Use the most appropriate moment for the explosion to destroy more icons. As already mentioned, each next level will be more complicated. So there will be new challenges.
Old but gold
If you want to score more points destroy bigger groups of icons at one time. You will increase progress even more if you destroy 3 consecutive groups of icons of the same kind.
If you're looking for games that develop logical thinking of kids then Magic Hat Games is what you need. After all this game is a great way to have fun and to think at same time. And it is also entertaining. Even adults do not refuse to test their skills in this game.