Bikini Bottom Bust up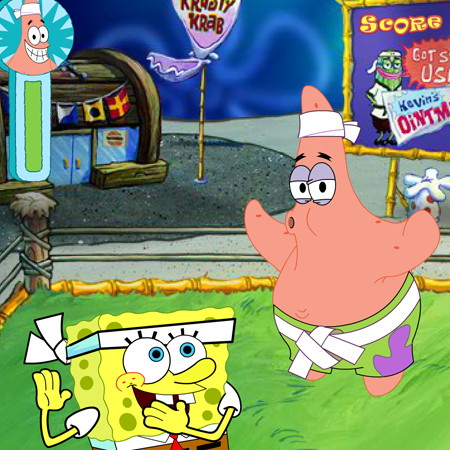 Bikini Bottom Bust up is a game based on one of the most recognizable cartoon characters not only among children but even among adults. Yes it is game about Spongebob. But what is he so remarkable about him? All the events unfold in deep water. All the characters live there just like people. All of them are representatives of the seas and oceans. Main character is a talking sponge, who wears square pants. Most children just love this animated series. After all, it is interesting, full of cute characters and funny events.
Spongebob Bikini Bottom is a lot of fun
Spongebob Bikini Bottom game is lovely way to have fun. All the kids who love the cartoon will surely appreciate this game. You will have to fight in duels and win over several rivals. The game has a mode for beginners to warm up, where it is possible to learn a bit. Find out how strong the rivals are and what punches they will use against you. Despite friendship SpongeBob and Patrick will have to fight on the ring. This also applies to the other characters. To fight you need to learn the controls. In order to punch with left hand press the S and to punch with right - D. To dodge use arrow keys right and left. Kicks will inflict more damage. After several successful series of punches, it will be possible to use special ability. To do use special punch press space.
Once you beat all the opponents, you can try next mode in Spongebob Bikini Bottom. But this time there will be no time to hesitate or wait. Opponents are the same characters but do not relax. Because now they are real masters of the battle. They easily evade attacks and strike back. Defeat them and become the champion of the ring in underwater town.
In both modes, you need to knock out the opponent two times and then you can move to the next one. In case of loss you will have to start over. After defeating every opponent will get points.
Spongebob Squarepants Bikini Bottom allows children of school and preschool age to spend free time with a lot of fun. Funny characters on the background of levels and music will cheer you up if you're bored.