Fort Blaster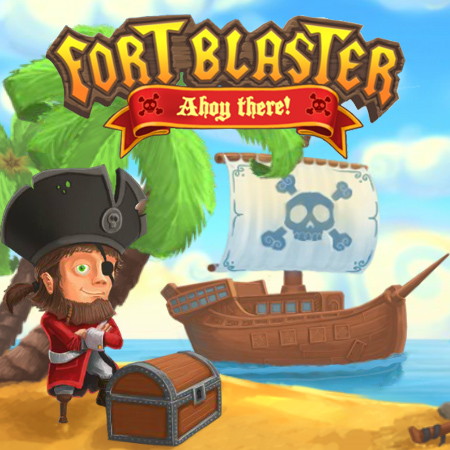 If you enjoyed playing games from Angry birds series you will definitely like this one. Though it might be a little childish it definitely has its charm. Plus somewhat simple gameplay allows you to have good time without stress.
Fort Blaster game
Probably all of you know Angry Birds games, they have millions of fans around the world and can be found on almost on any device. So Fort Blaster game is a simplified version of Angry Birds. But the game has its own peculiarities, which do not make it a clumsy copy, but rather a part of the genre. It is worth mentioning that this game is very suitable for children, as it is much easier than Angry birds for example. The first thing that catches the eye is its good graphics. Cute graphics and simple gameplay in a game is a rare thing.
How to play Fort Blaster
The controls are very simple, you do not even have to control the power of the shot, all you need to do is to aim the projectile, which by the way is illuminated. Of course, you need to distinguish fragile structures and stone walls or iron. Although with each new level you will get new bullets with greater destructive power. By the way, you can decide which bullet to use in a given situation. And learn how to determine which wall can not withstand the force of the projectile chosen. Fort Blaster has 48 levels. Fort Blaster has very developed system of achievements that should please the average gamer. In the game you can get the following achievements: Blaster (blow up barrels of gunpowder), Cannoneer (use enough ammunition), Merciless (kill enough enemy soldiers), Marauder (destroy a certain number of boxes with groceries), Fumbler (sink enough cannonballs), Mighty Pirate (pass all levels with the 3 stars), Glutton (Complete food collection), thug (collect all kinds of weapons), shinies lover (complete jewels collection), fop (complete clothes collection), skeleton (complete bones collection) and collector (collect all collections).
This is a great arcade game for children and adults, which can give you many hours of enjoyable gameplay.