Flappy Bird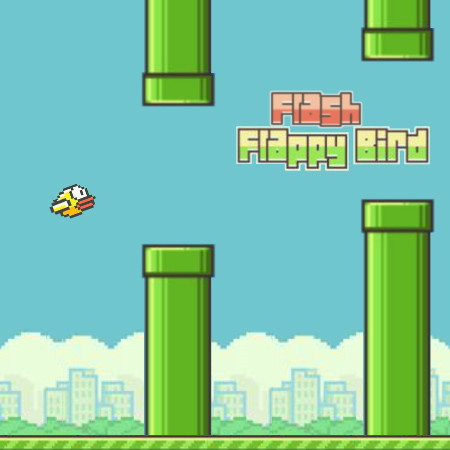 Based on the fact that this is scrolling arcade, we can understand that this game is simple to indecency. Generally it is so, the controls of the game carried out by only one button of the mouse. And you might say whatever, but flappy bird game is one of the most challenging games in the entire universe.
Legendary Flappy Bird online
To get two points in Flappy Bird online is an incredible achievement. This why young children and restless people should better stay away and not play this game at all, unless they want to experience a lot of stress and burning in their lower backs. As well as rather sensible fellows can get a free nervous breakdown. This game refers to 8 bit consoles such as NES. Where everything is simple and archaic, a large number of pixels and primitive graphics. But gameplay and drive is what is important in this game and it has it in abundance. You play a little bird, which must fly between the green pipes without touching them - that's all. But to say that it is not easy to fly in this game is to really under exaggerate. So be brave and courageous. But it is way harder to play than it might seem, actually it is way harder than you might possibly imagine. Frankly speaking this game is straight up nightmare, but I believe it never stopped anyone from playing. Hardcore gamers should remember insanely difficult Super Mario. But this game kind of exists for some different purpose. Possibly to be the hardest of them all and to piss off maximum amount of people out there, so brace yourself it is coming at you.
Rumors around Flappy Bird game
Flappy Bird game first appeared on mobile devices, but almost immediately disappeared from the App Store. The reason for that was its similarity to the original games about Mario. Allegedly, the developer of the game feared litigation. Would seem like the story of the game ended, but no! Clever entrepreneurs who managed to download the game in the short time that she was in access, have started to sell their phones with game already preloaded. The price of such phones sometimes was up to three times more than the cost of a new phone. This incident created an unprecedented boom around Flappy Bird. And over time, the game got back to online stores. Due to its unprecedented complexity many people's nerves were damaged and they could just break their phones, in the pursuit of a new record. Assessing the problem in its own way, one fellow from China, created a robot that can play it without making mistakes. This only proved the degree of insanity around this game is really impossible to estimate by any known to mankind units of measurement.
Well, it is your turn now to play Flappy Bird for free here on GF4Y, start with 2 points, actually let's start with one point. If you can score at least one point it is already great. Yeah jokes away but it is your time to prove yourself that you actually tough.