Angry Birds Space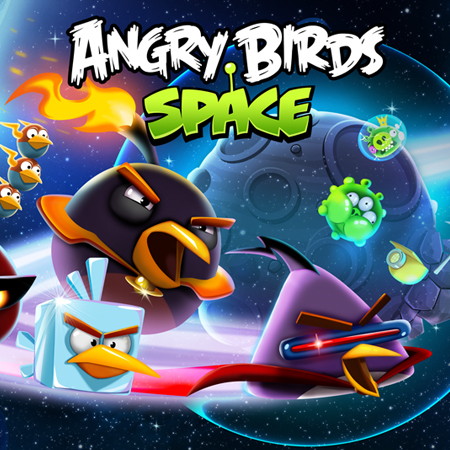 Amazing adventures of no less amazing birds this time outside of planet Earth. They overcame all the possible elements, but will they be able to overcome absence of gravitation?
The history of Angry Birds in Space
Here is a real super-mega blockbuster. Undoubtedly Angry Birds in space is something special, not in vain this series of games have such a huge popularity in the world. The game exists on all platforms and operating systems, basically on any touchscreen device. More than 12 million copies of the game were sold since the very first release on 10th of December 2009. In general, at the moment the game has been downloaded for over one billion times. The Finnish company Rovio, which released the game, according to humble estimates, has received more than 500$ million in revenue from the games of this series. Not to mention all sorts of souvenirs and fan items, which is in great demand worldwide.
Angry Birds Space game is fun
The essence of Angry Birds Space game is to shoot a bird from a slingshot at pigs, which is usually hidden behind the obstacles. According to legend, pigs stole the eggs from birds, to make an omelette. And the angry fellas are forced to take revenge. Controls in this game are quite simple, you use only the mouse. There is a zoom in feature for easy long-distance shots. This game consists of 29 levels. With each level the complexity of the game increases. At the end of the level, if you destroyed all the pigs, you are awarded with one to three stars. The smaller the number of projectiles used by you, the more points you earn. You will be given three attempts to destroy green pigs. After each attempt there will be a track left to adjust the next shot. Everything is done for your convenience. There are four types of projectiles in Angry Birds Space game, and they all have their specific skills. So Red is a single shot, in general it does not have any special skills. Blue one with yellow wings (Jay, Jake and Jim) can separate into three and to increase attack range. Black and orange (Bomb) is able to explode which really helps to get the pigs in the buildings. Finally violet bird (Lightning) has the function of guidance, so you can increase the accuracy.
Features of Angry Birds in Space
As the events take place in cosmos our heros are becoming small astronauts. The directions of movement are affected by gravitational fields around celestial bodies. Outside of these fields birds fly smoothly, and as soon as they are under the influence of such a field, they are attracted to the planet. You will have to get used to those specific conditions. Regarding the game itself, it has something really conceptually new, compared to previous versions. Of course the game is sustained in cosmos theme. The main feature of the game is the gravitational fields around planets, which can both hinder and help you play. In order not to make mistakes always look at the trajectory with correction for the attraction. Also on your way you will come across all kinds of asteroids and barriers that will prevent a direct hit. Play this game free on our website. Both children and adults will undoubtedly enjoy it.