Cactus McCoy 2
Cactus McCoy 2 - The New Adventures
When profit-seekers started the fight it was interrupted by a huge stone that rolled directly into them. While running away, the bridge collapsed under McCoy's feet, and he fell into the abyss. At this point, his rival suddenly spread her wings and rushed to rescue the poor fellow. It all happened in a split second and they stood on solid ground. The stranger introduced herself as Ella Windstorm.
She immediately grabbed the statuette found in a dangerous cave and broke it. There was nothing to be upset of, amid the wreckage was found the most important part of the map. The road to the ancient treasures was a hard and dangerous, now accomplices agreed to find and share the wealth equally. At this point, they were surrounded by bandits, who was long looking for Ella. They stunned the Cactus and kidnapped his companion. And so Cactus McCoy 2 begins. Now our hero needs to recover and return his body as well as to rescue his new friend. With that in mind he went for new adventures.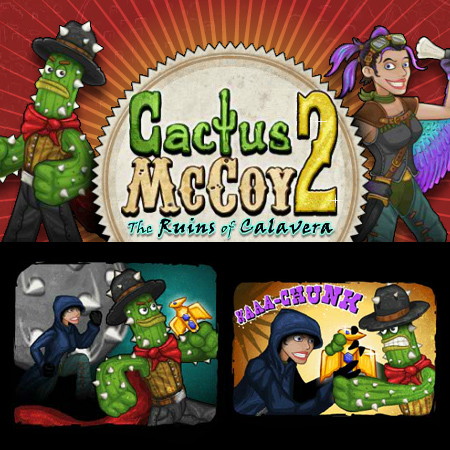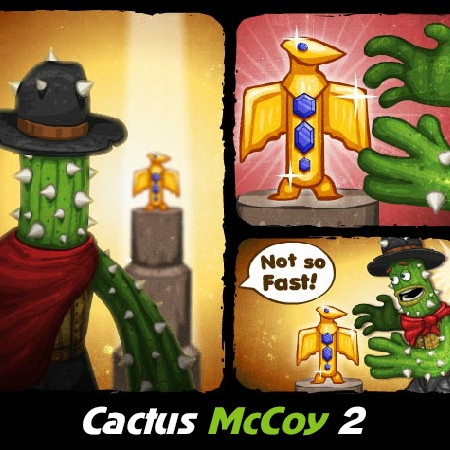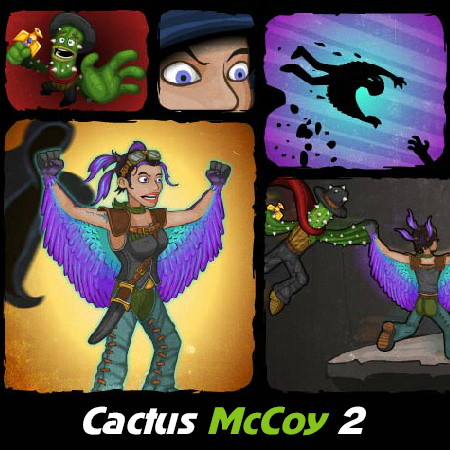 Pleasing novelties of Cactus McCoy 2 game
Cactus McCoy 2 game gained a lot of new improvements. There are new checkpoints in the form of bonfires. Once you finish off, it is possible to continue from last checkpoint. Improvement menu was greatly expanded, it has many new features. All earned money is worth spending on improving the character, so the passing of game will be less difficult. Arsenal of weapons was expanded as well as new enemies were added. You can shoot, hit with a shovel or throw a grenade at your enemies variety of choices is amazing. And to get to secret places with trunks, you will need to think and to take specific actions. Before each location you will find a list of additional jobs that will give you bonuses.
Controls of the game
The first level will explain all about the controls and will show some combinations. To control your character you will need to use keypad. Arrows are responsible for the movement of the protagonist. Press A to jump, S to attack, D to throw weapon or any other object. Play Cactus McCoy 2 and discover all the secrets of this mysterious adventure. McCoy 2 is very interesting adventure game, it will not leave anyone indifferent. Time to save Ella.